Why To Choose Software Development Company From Poland?
2 June 2021
The world is becoming a global village. You can see it almost everywhere. The possibility of outsourcing are incomparably greater today than it was 20, 10 or even 5 years ago. It is worth taking the advantage of this opportunity. Nowadays, you do not have to entrust your friend, brother-in-law or the first company you meet. Globalization allows to choose precisely the perfect contractor for the work we want to outsource.
Why, then, when creating dedicated software, it is worth choosing a contractor from Poland? I will try to answer this question in the article below.
What is custom software development?
Okay, but what is " the custom software development" anyway?
In short, it is a once written software, very personally designed for specific business requirements of the client. The entire manufacturing process, very costly, is used only to meet the needs of one company or institution. Typically, such a process begins with the analysis and design of the solution, and then it must be coded, tested and implemented into production environment.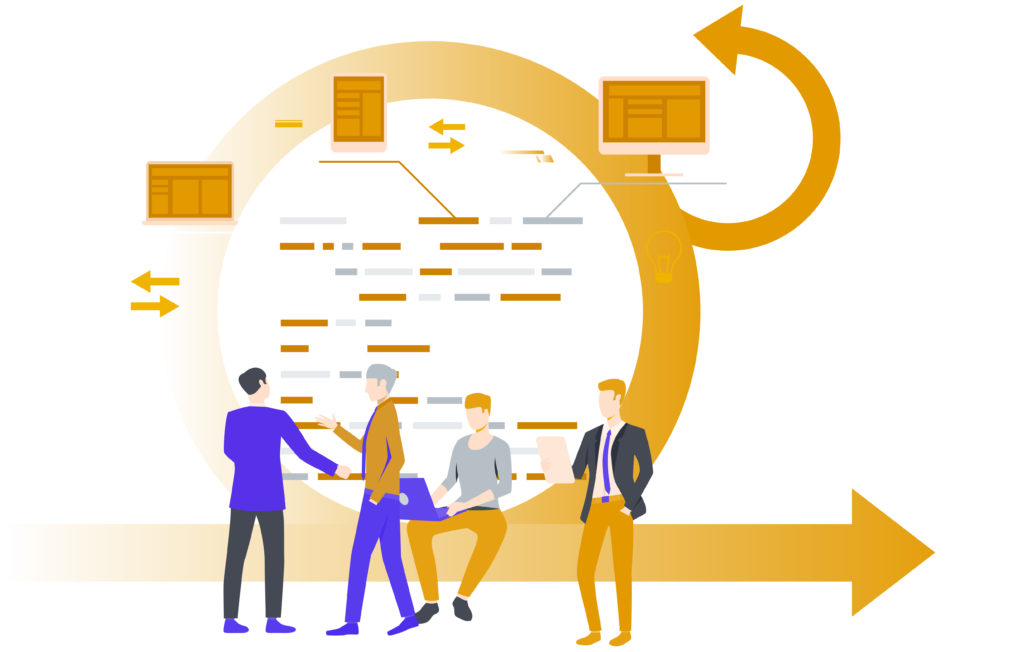 What is a software house?
Companies developing such software are called in Poland software houses. In other countries, terms like software development company, software agency or DevShop are used.
Regardless of the name, I believe that such companies can be divided into 2 categories. The first one works mainly by outsourcing specialists – for example, programmers. The second group is more ambitious about their activities and tries to provide software rather than the people who create it.
At Evertop, we try to approach these issues with balance. We create dedicated IT systems, but we also provide team leasing and team augmentation services.
Why in Poland?
Since you already know what a software house is, let me give you a few reasons why you should look for it in Poland.
Polish programmers achieve high positions in rankings
First of all, it is worth paying attention to the quality. If no other criteria mattered then it is clear that you would select the best developers for building or developing your IT systems. Wouldn't you?
How do you know which developers are the best? Of course, it is difficult to generalize and it is probably impossible to answer this question unequivocally. Nevertheless, in the skies of the Internet you will certainly find a lot of rankings and summaries. This below is just an example.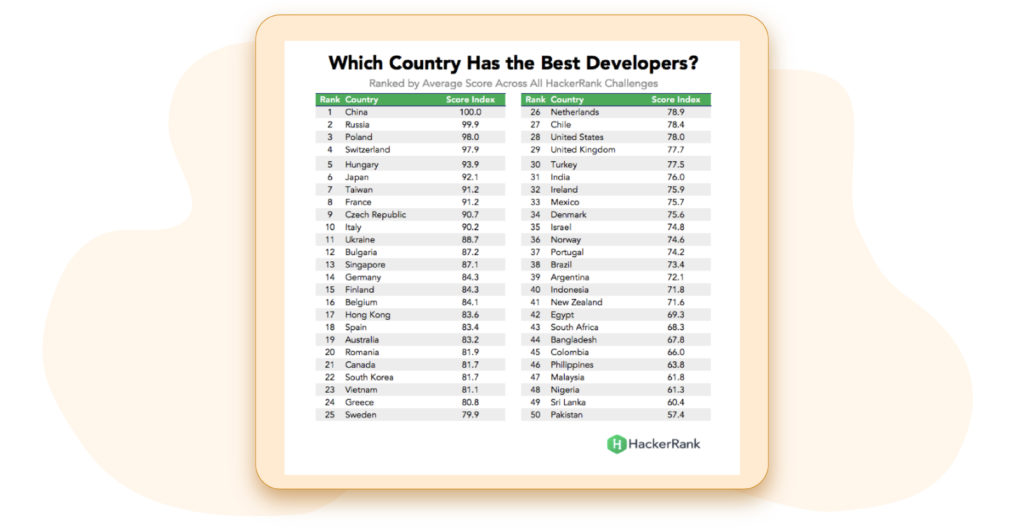 I am referring to it because it is based not on one but many challenges that the programmers realized so they can be considered more objective. Poland in the third place? I consider it a great result – especially in terms of who is in the first and second place.
Why?
Political and economic stability
Poland is a country in the heart of Europe. We are a long-term member of the European Union and NATO. Whatever happens, our governments have been democratic and rather predictable for over 30 years.
On the other hand, Russia and China, which are ahead of us in the above-mentioned ranking, are definitely less trustworthy and more unpredictable. For example, making businesses with companies from these countries may result in an intellectual property issues or disclosure of confidential information. It can be quite problematic to pursue your rights before the local courts.
Competitive rates
On the other hand – if we look at the competition in the form of companies from Western Europe or the United States, Scandinavia, Japan or Singapore, it is certain that the political and economic situation there is also at a level ensuring relative security. Nevertheless, you have to take into account much higher rates for work in those parts of the world than in Poland.
I believe that despite the fact that salaries in Poland are still going up – especially in the IT industry, they have not yet reached the "western" level. The software development costs will therefore remain competitive with other developed regions of the world.
Geographic location
A few sentences earlier I wrote that Poland is located in the center of Europe. This has another advantage. It's pretty close to everywhere. Most European capitals are within 2-3 hours by plane.
In addition, our airports have excellent connections with large communication hubs, e.g. in Frankfurt or Munich, which allows for convenient continuation of travel in all directions of the world.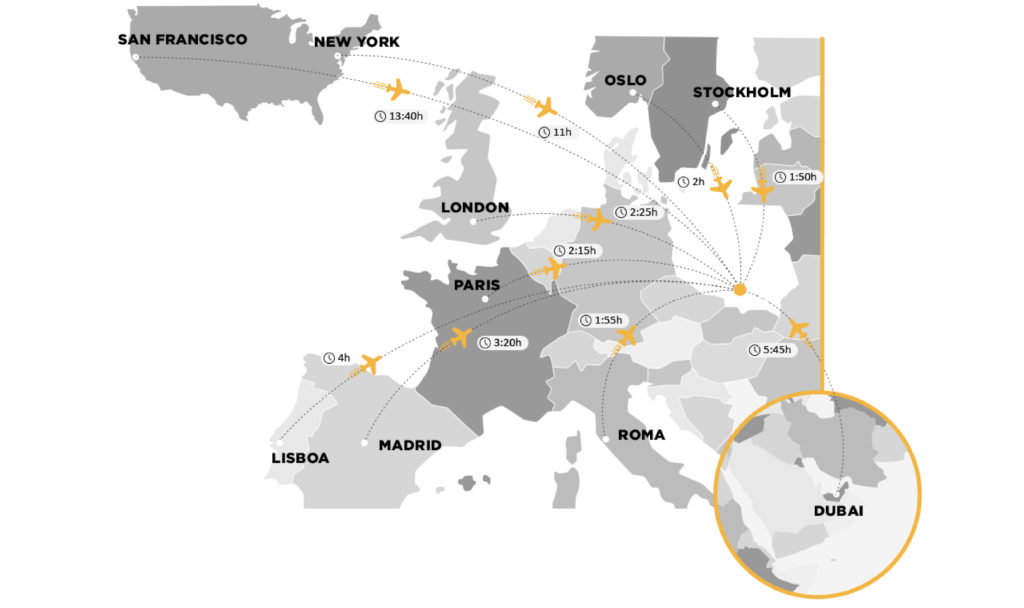 Internet access
When looking at the world from the coronavirus pandemic perspective, physical presence becomes less and less important. Humanity has slowly learned to cope with the inability to meet live and much of the activity has moved to the digital world.
For this element to function properly, a very good infrastructure of digital connections is required, and this in our country is at a fairly high level. Just look at the rankings (for example this one: https://seasia.co/2019/07/12/rank-of-countries-with-fastest-and-slowest-internet-in-the-world-2019) to realize the fact that in terms of digital connectivity, Poland has long caught up with, and even overtaken, some much more developed countries in the world.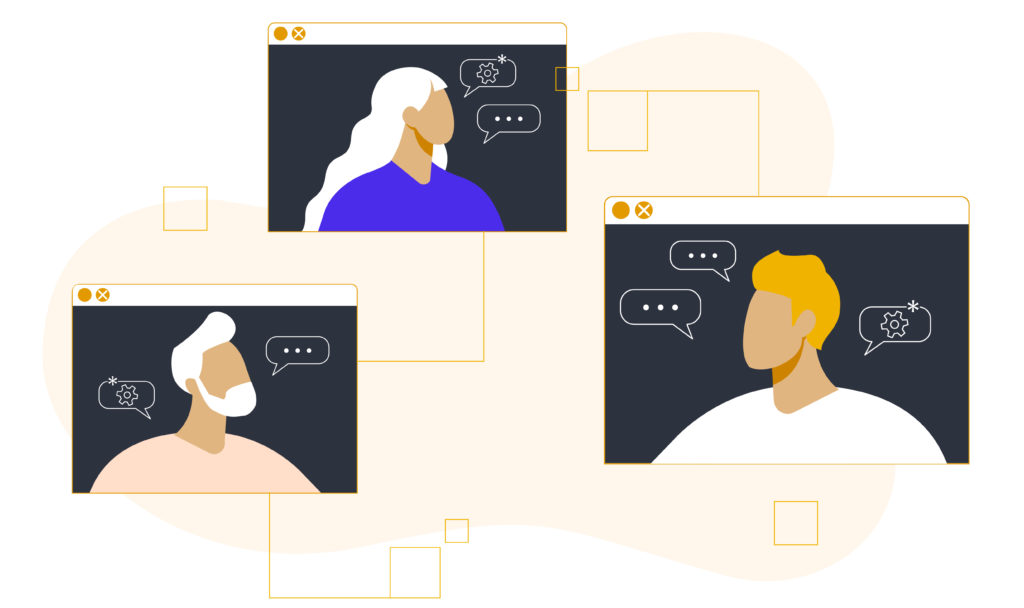 Development of IT systems
The level of social digitization can also be measured in a slightly different way. We have very well-developed electronic banking services in our country. Companies from the telecommunications and energy sectors also spoil their customers with their offer.
Certainly, the significant development of e-commerce services as well as the thriving gaming industry should also be emphasized.
High-quality universities
Last but not least – universities. In my opinion, universities, which educate tens of thousands of highly educated engineers each year, play a huge role in the development of the IT sector in Poland. They are the breeding ground for already existing companies, and also establish new ones that are more and more dynamically developing and conquering the market.
Summary
I hope these few issues allowed you to look at Polish software development companies from a slightly wider perspective. Of course, I am aware of a certain superficiality of the arguments cited, but the purpose of this article is only to indicate the direction on which you should think. Of course, you have to make your own decision.